GIORNO 3 – sabato 25 settembre 2021
La nostra giornata inizia con un'apparentemente normale sessione di lavoro, ma ben presto veniamo convocati dal nostro project director per un compito inaspettato.
La Secret challenge!
Ci accoglie una giornalista della BBC, così si presenta con nostra sorpresa, che sta scrivendo un articolo sul WoLe camp e vuole raccogliere informazioni e materiale. Chiede a ogni team di registrare un breve video, nel quale presentarci spiegando il nostro ruolo, e di scrivere un breve testo che contenga le impressioni sull'esperienza che stiamo vivendo… ovviamente in inglese! Per mettere ulteriormente alla prova la nostra capacità di organizzazione, ci assegna 20 minuti di tempo per completare la challenge.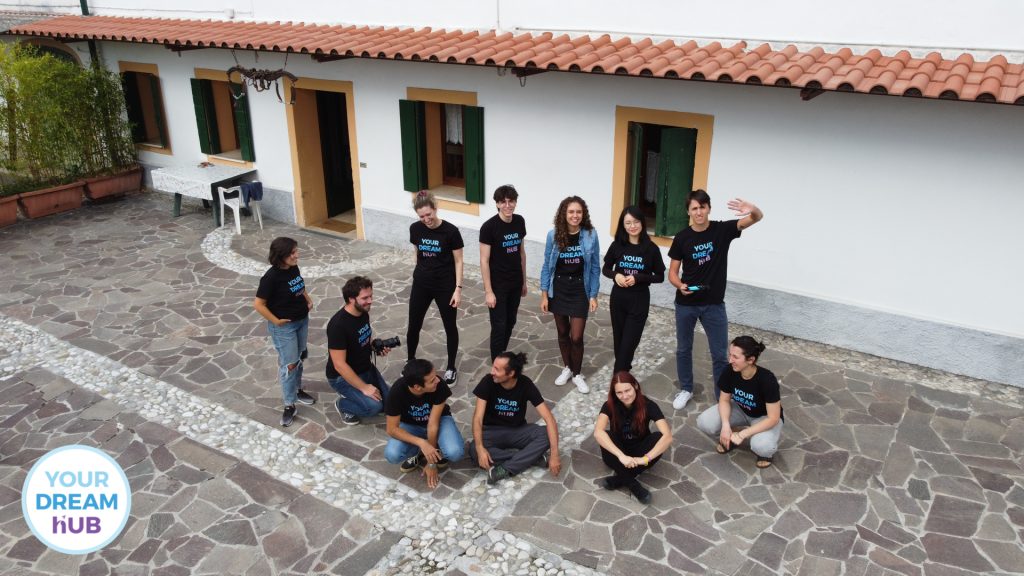 Allo scadere del tempo ci riuniamo nuovamente per condividere i nostri lavori: i team hanno realizzato video divertenti in un inglese niente male!
Ecco alcuni delle impressioni che abbiamo scritto:
«We are the multimedial team and we are working on the production of several short films. We are working well together, we share different points of view trying to collaborate as much as we can».
«The part that I enjoyed the most was the creative process behind each of our posts, from the brainstorming of the concepts to the actual editing and posting. Surprisingly, as a team, we managed to complete the majority of our tasks, by dividing the assignments between us and creating subgroups».
«I'm glad I took part in this experience because I got to met many talented and nice people, through which I learned a lot of new skills».
«The most exciting aspect of this camp was definitely to challenge ourselves seeking to produce more and more original content every day, also because the social media environment is a very competitive market».
Durante il pranzo la giornalista (che in realtà fa parte dello staff di Your Dream Hub) comunica il feedback a ogni team sui vari aspetti che la challenge voleva verificare: la conoscenza dell'inglese, la gestione dei tempi e la collaborazione all'interno del team.
Momenti di crescita
Nel pomeriggio ogni team riprende il lavoro iniziato. Il team 1 ultima il montaggio del video della "Messa a quattro voci" di W. Byrd". Segue il confronto con il regista di Your Dream Hub: un momento importante nel quale il team riceve i complimenti ma anche i suggerimenti tecnici riguardo alla qualità e alla tipologia di riprese effettuate.
Nel frattempo, il team 2 definisce i dettagli dell'evento di domani per la presentazione di Your Dream Hub e dei WoLe. Cominciano ad arrivare le prime iscrizioni all'evento grazie all'efficace promozione sui social media seguita dal team.
Verso sera le nostre tecniche del suono, del team 1, si spostano a Treviso nella chiesa dove si tiene il concerto. Hanno la possibilità di collaborare con un esperto che si occupa di registrare il suono in presa diretta durante l'evento. Tornate al campo, ci raccontano le attività che hanno svolto e tutti i rumori prodotti inavvertitamente dal pubblico che minacciavano l'integrità della registrazione.
Giochi e risate concludono la nostra ultima sera al campo. Domani sarà un giorno impegnativo nel quale raccogliere il frutto del nostro lavoro e presentarlo al pubblico.